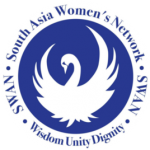 GREETINGS FROM VEENA SIKRI, FOUNDING TRUSTEE AND CONVENER, SOUTH ASIA WOMEN'S NETWORK (SWAN)
2019 is the milestone year for SWAN. We mark the tenth year of our formation. This year, we are convening our Tenth Annual Conference.
SWAN brings together women leaders, parliamentarians, academicians, experts, activists and media representatives from nine countries : Afghanistan, Bangladesh, Bhutan, India, Myanmar, Maldives, Nepal, Pakistan, and Sri Lanka. SWAN coordinates its activities through eight sectoral networks, also called SWANs, respectively dealing with the Environment; Arts and Literature; Women in Peacemaking; Health, Nutrition and Food Sovereignty; Education; Crafts and Textiles; Finance, Livelihoods and Entrepreneurship Development; and Women in Media.
SWAN was established in March 2009 at the Conference on "Women of South Asia : Partners in Development" convened at Jamia Millia Islamia University, New Delhi. This Conference was inaugurated by Nobel Laureate Professor Muhammad Yunus of Bangladesh. Initially, SWAN was located within Jamia Millia Islamia University. Subsequently, SWAN functioned as a programme of the South Asia Foundation (SAF-India), New Delhi, a registered Trust1. Since June 2017, SWAN, now registered as an Article 64 Trust under the Indian Trusts Act of 1882, is functioning independently, with Professor Veena Sikri as the Founding Trustee and Convener.
South Asia is endowed with rich natural resources, combined with immense geographic and biological diversity. The people of South Asia share a unique cultural and civilizational heritage, including spiritual philosophies and knowledge systems. This shared diversity is South Asia's core strength, with enormous growth potential.
SWAN recognises the serious challenges facing the women of South Asia, irrespective of their religious beliefs and ethnicities. These include poverty, poor maternal and child health, low educational achievements and illiteracy, violence, social injustice, economic discrimination, lack of ownership or inadequate control over resources, tremendous vulnerability during and after environmental disasters and armed conflicts, and the socio-political and bureaucratic culture that undermines and constrains women in myriad spheres of national life. These challenges have defied solution, despite decades of effort by individual governments, which have yielded far too few successes. Despite several outstanding examples of individual and collective achievements, women across South Asia still constitute an overwhelmingly large body of underprivileged citizens, surviving within the limits of an environment that remains largely hostile.
SWAN emphasises the importance of gender empowerment as the key to sustainable economic growth, social development and environmental sustainability in South Asia. SWAN's vision is to achieve sustainable development for South Asia through an integrated approach incorporating the centrality of women's agency, voice, participation and leadership in all the three dimensions of sustainable development : socio-political, economic and environmental.
SWAN's strategy for achieving this is based on strengthening partnerships through an institutional network across South Asia, working together to agree upon policy recommendations for governments, (including resistance to policies that perpetuate inequality, inequity and injustice); to develop leadership skills among the women of South Asia in order that they are empowered with the relevant education and conceptual, managerial, and technical knowledge to lead the movement for sustainable development in this region; and to focus on capacity building for change at all levels.
Incorporating this vision and strategy, SWAN finalized and adopted its "Roadmap for Sustainable Development for the Women of South Asia" at its Fifth Annual Conference in Colombo in August 2013. At its Sixth Annual Conference in Thimphu in September 2014, SWAN initiated the new phase of its activities in implementation of the agreed Roadmap, prioritizing specific sectors and areas. Through the Seventh Annual Conference in Maldives (October 2015), the Eighth Annual Conference in Yangon, Myanmar (October 2016), and the Ninth Annual Conference in Kathmandu (November 2017) SWAN has successfully transitioned to the focus on projects for empowering the women of South Asia.
SWAN's Annual Conferences are vital and invaluable for conceptualizing and planning specific activities that are then implemented over the next 12 months. The Annual Conferences bring together key stakeholders from nine South Asian countries, those involved in the projects and activities under consideration. The objectives and methodology for each project are agreed upon collectively, but ground-work and implementation is by participating institutions in each country.
Among SWAN's flagship projects are : (i) "Women for Change : Building a Gendered Media in South Asia" : The media is an important partner in the promotion of gender equality as well as in removing negative gender stereotypes embedded in individual and community mindsets. This project seeks to enhance the role of media in strengthening the struggle for a gender equal society in South Asia. If sufficiently empowered, women in media can themselves be the change they want to see. The need to deter, counter and overcome gender-based violence (GBV) and sexual harassment is a cross-cutting priority in this project, as an issue that adversely impacts every aspect of women's work in media and society. Through this project, SWAN has developed and agreed upon Gender Sensitive Guidelines for Women in Media in South Asia (GSGWMSA), covering print, electronic and online media, including the entertainment and advertising sectors. The next phase of this project, currently under way, is a comprehensive (quantitative and qualitative) Baseline Survey on the Status of Women in Media in South Asia, a unique effort being attempted for the first time, together with the development of the Gender Sensitivity Barometer; and implementation of advocacy strategies with governments, editors and owners, and other stakeholders.
(ii) The Rural Tourism based Social Enterprise Project for Sustainable Development and Gender Empowerment in South Asia : Tourism is a natural avenue for revenue generation across South Asia. It is also the most instinctive and successful way to bring the peoples of South Asia closer to each other. Ecotourism is environmentally responsible tourism. It inculcates respect for different cultures and sub-cultures, and is essential for sustainable development of regions and people. SWAN emphasises the vital role of ecotourism for integrating women into the process of sustainable development. Women play a central role in rural communities in agriculture, crafts and textiles, waste management, arts and music, cuisine and hospitality, preservation of the environment and culture, and inculcating traditional values in the next generation. All these are core values for the development of eco-tourism. By making local communities stake-holders and the principal beneficiaries in eco-tourism projects, the aspect of gender empowerment for the women in these communities receives the highest priority. Eco-tourism becomes the vehicle for skills, livelihood and sustainable development for the women of South Asia.
(iii) The recent initiative to evolve, through pilot projects based on existing research, a Women-led Strategy to Overcome South Asia's Malnutrition Crisis. Women and children are the group most adversely affected by malnutrition and related health issues. South Asia has the world's largest number of stunted children. South Asia needs a new focus, new partnerships and innovative methodology in order to face up to the challenge of meeting the Sustainable Development Goal (SDG) of "no hunger and malnutrition" by 2030. Increasingly, it is being realized that achieving SDG 5 (Gender Equality) will be impossible if the goals to eradicate hunger and malnutrition are not met.
The South Asia Women's Network (SWAN) sincerely thanks the Sir Dorabji Tata Trust, Mumbai, for their support for SWAN's Tenth Annual Conference.
Veena Sikri
Professor & Ambassador
Founding Trustee and Convener,
South Asia Women's Network (SWAN)
&
Vice Chairperson
South Asia Foundation (SAF-India)
1 Founded by UNESCO Goodwill Ambassador Madanjeet Singh in 2000, the South Asia Foundation (SAF) is a secular, non-profit and non-political organization, comprising eight autonomous chapters: Afghanistan, Bangladesh, Bhutan, India, Maldives, Nepal, Pakistan and Sri Lanka. SAF's core objective is to promote regional cooperation through a number of UNESCO Madanjeet Singh Institutions of Excellence in the eight SAARC countries, offering courses in Preservation of Cultural Heritage (Kabul), Human Rights and Common Law (Dhaka), Forestry Studies (Bumthang, Bhutan), Journalism (Chennai), Kashmir Studies (Srinagar), Regional Cooperation (Pondicherry), Green Energy Technology (Pondicherry), Climate Research (Maldives), Development Studies (Kathmandu), Visual Arts (Lahore), South Asian Studies (Lahore), Water Management (Moratuwa, Sri Lanka).