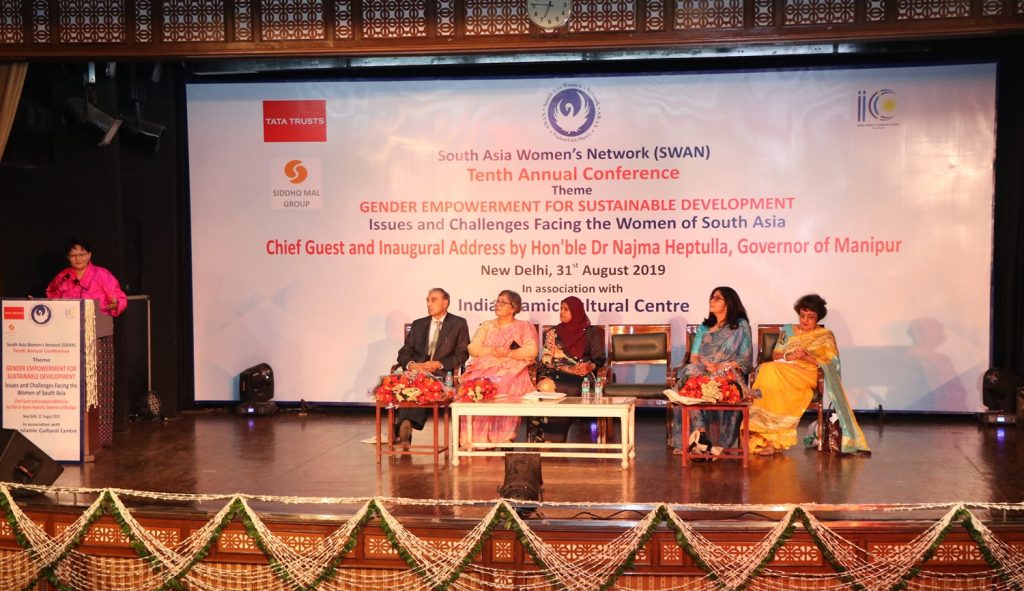 With the support and participation of Tata Trusts, the South Asia Women's Network (SWAN) convened its landmark tenth annual conference in New Delhi from August 31 to September 2, 2019, on the theme 'Gender Empowerment for Sustainable Development: Issues and Challenges Facing the Women of South Asia'.
Shireen Vakil, Head, Policy and Advocacy, Tata Trusts, speaking at the inaugural session on August 31, 2019, highlighted the shared issues confronting the women of South Asia, especially the gender gap in terms of equal pay for equal work, ownership of land, and access to technology and resources, as well as the decreasing female labour force participation rate. Tata Trusts is partnering the Government of India in the Poshan Abhiyan (National Nutrition Mission), and in this context, Shireen Vakil particularly welcomed the proposed discussions on South Asia's malnutrition challenge, seeking a women-led strategy for fast-tracking improvement.
SWAN brings together women leaders — parliamentarians, media representatives, domain experts, NGO leaders, creative individuals and grass-roots workers — from nine South Asian countries: Afghanistan, Bangladesh, Bhutan, India, Maldives, Myanmar, Nepal, Pakistan and Sri Lanka.
SWAN's key focus is overcoming the serious challenges facing the women of South Asia, irrespective of their religious beliefs and ethnicities. SWAN emphasises that gender equality and gender empowerment are vital to overcome these challenges, and to achieve the Sustainable Development Goals. SWAN's vision is to achieve sustainable development for South Asia through an integrated approach, incorporating the centrality of women's agency, voice, participation and leadership. Sustainability becomes achievable when women are placed at the centre of every solution, as stakeholders, leaders and dynamic participants, not merely as 'objects' of the developmental process.
SWAN's tenth annual conference brought together on one platform over 60 leading women and men from South Asia, and another twenty from India. This included two Cabinet Ministers, respectively from Bhutan and the Maldives; six Members of Parliament, from Afghanistan, Bangladesh, Bhutan and India; a member of the Human Rights Commission, the Information Commissioner and the former Election Commissioner, all from Nepal; and distinguished academicians and NGO heads from Myanmar and Sri Lanka.
Source: https://www.tatatrusts.org/media/events/gender-empowerment-for-sustainable-development
Download report on SWAN's Tenth Annual Conference
Photo Gallery for 10th Annual SWAN Conference 31 August 2019- 2nd September, 2019